7 best free WordPress live chat plugins
Live chat can help you get some more sales, Check best free live chat plugin with WordPress.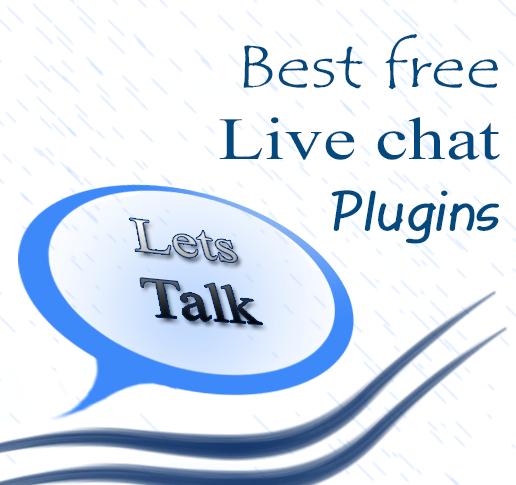 Interaction with viewers is an important part of your blogging carrier, every now and then people have questions, having a nice commenting system is a good thing, but for them who like to get instant answers then it is really nice to have a  live chat feature.
Having live chat is even more useful if you are selling products on your website. When you are selling products on your website then live chat will help your customers will help you to answer your customer quickly. Getting an answer quickly will help the customer to make a sale quickly and easily.
To have live chat feature on your WordPress website you can use a live chat plugin. Just to have live chat we have made a list of best free live chat plugins for WordPress.
Most Popular free live chat plugins for WordPress
Lets start with the list of top free WordPress plugins for live chat.
---
1 – WP Live Chat Support
Getting a live chat up and running can't be easier than this, you can make the things more prominent with the use of a live chat plugin. This plugin uses ajax to give a live chat experience, if you're using a cache plugin even still then this plugin will deliver live chat without any hindrance.
This plugin is totally free and will not display any kind of advertisement what so ever, so this will keep the brand of your website intact.
Highlights & Features
Use Ajax for live chat
No advertisement
Desktop notifications for live chat.
Automatic live chat pop up.
---
2 – My Live Chat

Get that professional look for your live chat, the way the live chat is presented makes a lot of different with viewer experience. The greater the experience more is the chances to convert. With live visitor monitoring you can get the data about the visitors on your website at the moment.
This plugin has a limit to 1 agent and 1 department, if you like to add the features then you can opt for a pro version by paying for it but with basic version all the features will be free.
Highlights & Features
Live visitors
Professional viewer experience.
keyword and search engine tracking.
flexible customization.
---
3 – Formilla Live Chat
Rel time chat is one of the strongest feature which can run on mobile devices too. With the feature to run on the mobile devices you can even get the people who like to use smaller screen size devices to chat with you and can help to convert more.
with language support you can change the language on live chat buttons, chat forms, and offline email forms.
Highlights & Features
Mobile ready.
Language support.
Real time chat
Visitor monitoring.
---
4 – YITH live chat
This is another great live chat plugin by YITH, this plugin uses ajax to deliver live chat experience to the users. Give a custom touch to you're welcome message with the text you like.With this plugin you can get the ability of different tabs, multiple chats to interact with more than one person.
Highlights & Features
Uses Ajax.
Custom login message.
Multiple chats.
Different tabs.
---
5 – Tidio Live chat

Another great way to get the live chat on your WordPress website. With three designs to choose you can get the one best suited for you. With a great language support you can choose from 140 languages, if you are having a website with language other than english then you can use this live chat plugin for a local language experience.
When you are not online and some one messages through live chat then the message is sent to you via email.
Highlights & Features
3 design layouts.
multiple language support.
Dedicated mobile and desktop app.
Offline messages sent through email.
---
6 – Chat
Giving the liberty of choosing the chat window to display site wide and is you like to display them only on certain page then this plugin have this option too. You even have the option to promote your website or a service with a pop-up window at the bottom, with fill control over customization you can create the look like you needed for your website.
Highlights & Features
Customization.
display side wide.
Message at the bottom
Support questions.
---
7 – WP Chat

Now is you like to have a managed system then you can use this plugin, this is a plugin which uses powerful wp-chat servers to get the live chat working on your website. You can opt for a paid or free service one their website and then start using this plugin to get the chat running on your website.
Highlights & Features
unlimited chats
Managed service.
Analytics
offline chat messages.
---
Conclusion
These are some of the best free WordPress live chat plugins that you can use to get the live chat feature running on your website. These feature filled plugins have different ways to get the desired result, even though ever one does the job of having live chat perfectly, but the characteristics of each one differs, so choose the one best suited for you.
For more useful plugins you can refer the links bellow.
Also Read:
If you liked the post then please share it, and to ask a question or for starting a conversation use the comment section below.