5 Best free product catalog plugins for WordPress
Most Recommended product catalog plugins for WordPress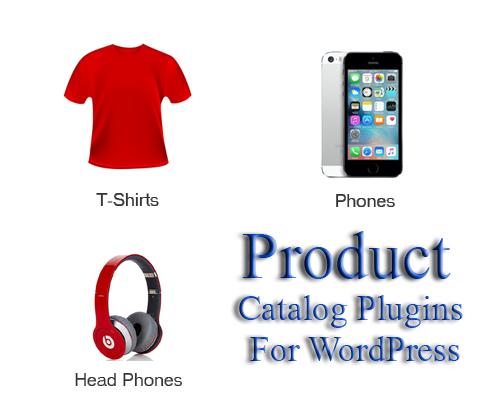 Most recommended Product catalog plugins for WordPress
If you like to have various products on your website then having a product catalog can make the things more pleasant for you, this can certainly add to the user experience. Every one loves the well-organized product catalogs, if you are the one who likes to sell product from your website then having a product catalog is must.
If you like to make create and serve product in the form of catalog then you can do it efficiently with a plugin. There are many product catalog plugins for WordPress that can do the job, but many don't know which one is the best one to choose from. So we created a list of best free product catalog plugins for WordPress.
Top list of 5 best free product catalog plugins for WordPress.
---
1. CataBlog

CataBlog can do almost everything that you need to display product catalog on your website. With this you can create a gallery of images, you can add title, descriptions and links. You can use categories and filters to organize the items in your catalog, by which users can filter the product with ease.
Use of light box can make it easy for users to view product without losing the page. This plugin is available in five languages Spanish, French, Swedish, German and Russian to make it usable for more people.
Highlights & Features
Easy to use.
Lightbox option.
Feature filled.
Available in five languages.
---
2. WP Catalogue

WP catalogue is a simple to use product catalog plugin which let you use up to 3 images for a product. To make it perfectly blend in your theme design you have the option to customize, change the color, number of products per page, set image sizes, pagination, grid layout.
If you are an advance user then you have the css option to make more changes for your website. Previous and next navigation is there for user experience.
Highlights & Features
Light on web Page.
Highly customizable.
CSS option for advance users.
Previous/next navigation.
---
3. eCommerce Product Catalog

eCommerce product catalog is specially designed for those who like to sell products on their website. This plugin has all the features that you will need to sell products with product catalog. You can organize products with categories tags, etc, Due to high customization abilities you can make the product display the way you like.
Perfectly blend in the theme of your website.
Highlights & Features
Designed for eCommerce.
Organizing filters.
Customization abilities
SEO Friendly.
---
4. Ultimate Product Catalogue Plugin
With the help of three default layouts you can create a product catalog the way you like, thumbnails, details and list are the three default layouts. Organizing of product by category, subcategory and tags are there for easy filtering.
Create custom fields and custom product pages is there, search functions with javascript or AJAX is there.
Highlights & Features
Default layouts.
Categories, sub categories, tags use.
Responsive design.
Seafch with JS or AJAX
---
5. WordPress Catalog

WordPress catalog as the name suggest is a WordPress product catalog plugin with which you can create product catalogs, each product can have three images. You can add filter like categories and sub categories, products are displayed in nice lightbox without leaving the page.
This plugin have eCommerce functionality as well, You can add default price and market price for every product in the catalog.
Highlights & Features
LightBox.
Search by name or category.
Reviews and rating option.
7 layouts.
---
Conclusion
This is the list of best free WordPress product catalog plugins that can help you to have product catalogs the way you like. All the plugins have different features and styles so choose the one depending on your needs.
If you have any questions or want to say something about the article, use the comment section below to drop a comment. We will get back to you as soon as possible.
Also Read: