How to Recover forgotten password in WordPress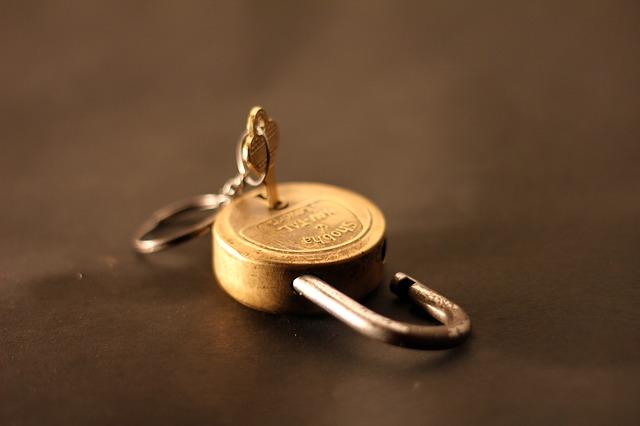 Learn how to recover lost password in WordPress? Reset lost password
There are times when you forget the password for your precious WordPress blog. There can be due to many reasons, you have forgotten the password or someone hacked your website.
Either way you have the option to recover your password for your blog with the help of the email address you entered at the time of registering your WordPress website account. To recover you password you have to go to the login page of your WordPress website.
The login page will be located at the url
http://www.yourwebsite.com/login/
Remember to replace yourwebsite.comm with the name your own website. Now you will sea window like as below, here you will find a Lost your Password? link, which you have to click. 
After clicking the Lost your password? link you will be redirected to a window where you have to provide your username or email address which you used for your WordPress account. Now hit the Get new password Button.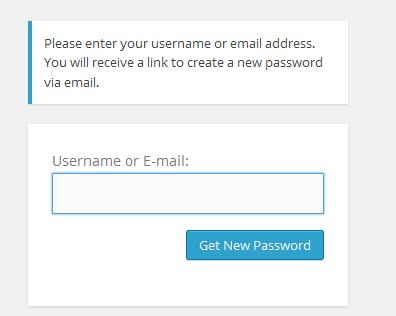 After you have entered the username or a valid email address, then you will receive an email in your inbox containing information about setting a new password for your website. The email will the titled as [your domain name] Password Reset, if you are not able to see the email in your inbox then be sure to check your spam/junk folder. The email will be like the one below.
Someone requested that the password be reset for the following account:
http://www.yourwebsite.com/
Username: your-username

If this was a mistake, just ignore this email and nothing will happen. To reset your password, visit the following address:

<http://www.yourwebsite.com/wp-login.php?action=rp&key=aaaabbbccc1112223333&login=your-username>
Now you have to click the link in your email that will lead you to the page where you have to place the new password for your account.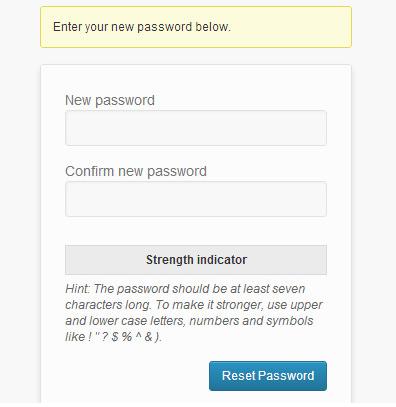 While choosing a password take the help of strength indicator, having a strong password will help you to secure your account from many attacks, type the new password and the enter the same new password in confirm new password box. There is a way with which you can have a strong password with few tips.
After this you will get a message that you have successfully changed the password, Once you have successfully changes your password you can go to your login window, where you have to enter the username with the new password. That's it you are done. If some how you have forgotten which email you used or unable to login to your email account then you can change your password without going to your email account. check the link below to reset your WordPress password with the help of  phpMyAdmin.
This way you can Recover forgotten password in WordPress with email or even without email.
Further read: