How to create twitter app
Learn how to create a twitter app for your website easily step by step with pictures to make the process easy.
Now a day's twitter is one of the biggest social networking websites which is being used by websites and companies to promote their products.
When it comes to SEM even then twitter holds an important place, If you like to add twitter functionality on your website the you just have to add a twitter app.
This is a feature added by twitter to get your website viewers to connect with your twitter account right from your website, this is one of the things that most of the websites do to integrate their twitter account on their website.
How to add twitter app to your website.
First of all you have to login to your twitter account, if your don't have one then create it. After login you ave to go to this link to create twitter app. This will lead you to a page where you can start creating an app.
When you click the button to create a new app then you will be directed to a page where you have to enter the information about the your website.
Now in this page you will have to fill the application, in this you have name, description, website, callback URL.
Name: Here you have to enter the name of the app, this will be displayed as attribute for the tweets.
Description: Enter the App description which you like, this will help you know about the app in an instant.
Website: Here you have to enter the URL of the website where you  like to use the twitter app oin, basically your own website.
Callback URL: This is something which is used for external services, this feature installs keys to connect the external services. Usually you should put your website URL.
After filling this option you have to go to accepting the terms of use and then hit the button saying create your twitter application.
Now that you have created the app you will be directed to a page where you have the option to check the keys and access tab.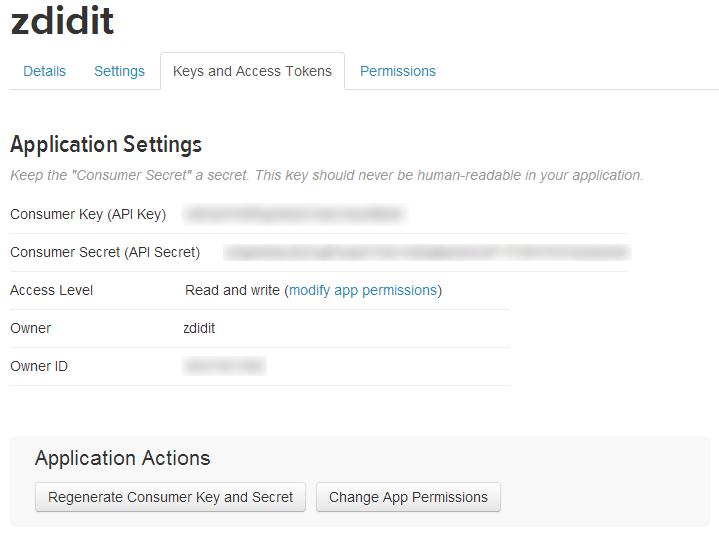 At this page you will get the consumer key and consumer secret, these are the codes which is used by different plugins and apps to get access to the twitter account, keep them safe and if you like to change the access level then you should click modify app permission. Now you will get the options as read only, read & write, read write and access direct messages. You can select the one according to your choice.
If you like to change the consumer keys and secrets then you can use the regenerate user key and secrets. This will be helpful if your key is being compromised.
Conclusion
This is the way by which you create twitter app, you should follow step by step to create twitter app easily and you can access it any time from your twitter account. So if you like to access the app you can do it from your twitter account or have the need to create a new app you can follow this tutorial by visiting the link again.
Further read:
If you liked the post then please share it, and to ask a question or for starting a conversation use the comment section below.