How to add Nofollow tag to WordPress menu links
Sometimes we have to make one or more links on our navigation menu nofollow.
Adding a nofollow tag to the links that you don't like to endorse if a nice SEO habit, this tell search engines like Google that you have the link there but you don;t want to endorse it, so the link juice is not transferred to it, In an earlier tutorial we covered how to add no follow tags to your links in WordPress. And how to nofollow all the external links of your website including older links. But both of these don;t cover the links in the navigation menu items.
Why we need to Nofollow menu items?
Some times we have to get some items on our navigation menu that we really have to put it there but we don't like search engines to link our website with that particular link. This can be of many reasons, like same link on the page appearing two times, target page is an external link, Menu link goes to a page which you don;t want Google to list.
How to add nofollow tag to WordPress menu links?
The Good part about this tutorial is that you don't have to install any plugin, For this you just have to go to the menu item that you like to nofollow, if it's already there then you are good to go on next step or you just have to get the new item to the navigation menu, DashBoard»Appearance»Menu and add the link to the menu that you like to have the item on.
You can add pages, posts, categories or custom links on the menu and anyone can be given a nofollow tag. When you hit add to the menu then you have to look for screen options at the right upper corner of the window.
Now you have to first go to the screen options marked as no-1 and then turn on the option of link relationship by tick the box. This will add a field of link relationship in the menu item.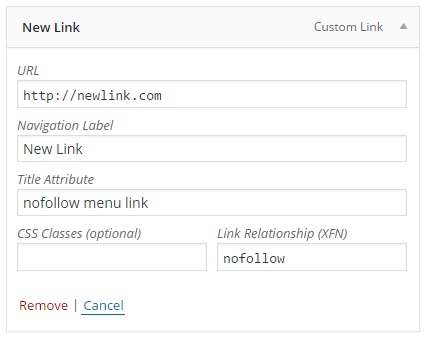 With in the newly added field you just  have to specify the relationship of the link, In the box you have to enter "nofollow" and the navigation menu item becomes nofollow.
That's it this is all that you have to do to make any link in the navigation menu nofollow. We hope this helps in making your WordPress website the way you like.
For more awesome tutorials visit our Tutorial section where we have a lot of how to posts that can be helpful for you to do many things with your WordPress website.
Also Read:
If you liked the post then please share it, and to ask a question or for starting a conversation use the comment section below.