How to schedule WordPress Post
There are lot of interesting features in WordPress that can make blogging hassle free, one of these feature is scheduling a post. This is a feature that can be more than helpful if used correctly, I've written a post in which I described that how scheduling a post can help you maintain consistency while you are sick.
This automation of publishing is an incredible way of delivering a post on a constant basis, this process is a great help for those who likes to write many posts at once then wants them to get published after some time intervals.
step by step Schedule your WordPress post
Scheduling a post is very simple as WordPress have a built-in feature for this, before you schedule your post you have to create and complete the post with all the necessary parts of the post covered.
1 – Now that you are done with your post you have to look for the publish window of your post, in publish window you will have a section named Publish immediately. ON the right hand of Publish immediately there is an edit button , you have to click it.
2 – Now after you click the edit button then you will see some tabs with date and time, here you have to put the time and date you like to publish your post. After setting the time and date hit the OK button.
3 – After hitting OK you will be able to see the date and time you have your post scheduled for, if the time and date is not right then you can hit the edit button besides your schedule date to set the time again. After you are satisfied with your schedule time you can hit the schedule button at the bottom of the publishing box.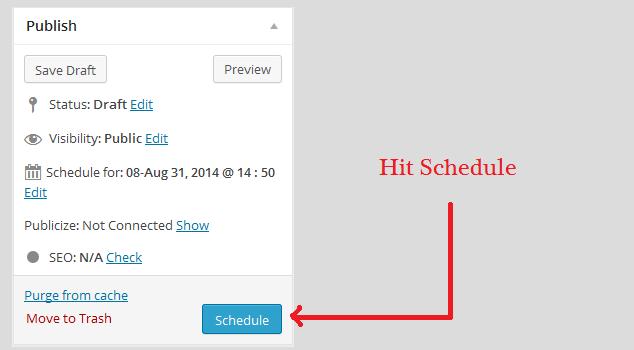 This is it you have successfully scheduled your post. If you want to extend your publishing time or simply want to disable your scheduling you can do it by hitting edit, then clicking on cancel. This will delete your scheduling for the specific post, then you can publish the post manually.
This is the tutorial about how to schedule WordPress post, If you liked the post then don't forget to share it with your friends.
Also Read: