The 4 Best free product review plugin for wordpress
This list of free best product review plugin WordPress
If you are endorsing a product on your WordPress website then having a product review plugin running on your website is a must. So before we jump to the list of best free product review plugin for WordPress we must know that how a product review plugin differs from a regular review plugin.
A product review plugin is specially designed to collect reviews about a specified product, where as a review plugin is used to take reviews in general, they are not product specific. Having a product review plugin on your WordPress website not only helps in SEO, but it also helps you know that which product is liked by the users. Then you can pay more attention towards that product and increase your affiliate sales.
If you want to take reviews that are product specific then this is the list of Best free product review plugin for WordPress
---
1 – Author hReview

This by far the best free product review plugin for WordPress we have on our list. This product review plugin will help display ratings on SERPs, this will give your post a very nice look with rating stars and your name in Search engine results. This will help attract more visitors to your product review post than a normal one.
Author hReview have different sets of meta boxes for different Fields which will help you store important information about the product which will be shown on your post as well as on search engine results.
Star Ratings
Ratings on SERP.
Meta box for each entry.
covers all the required feilds
---
2 – WeReview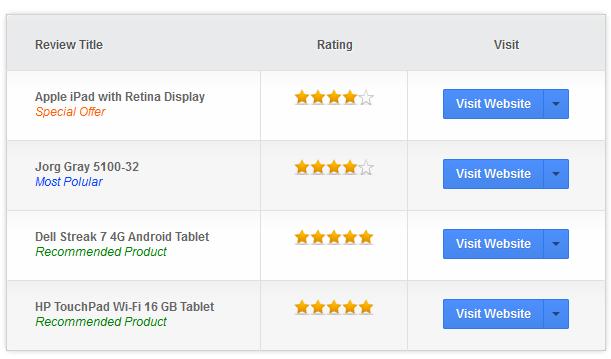 Wereview is another great free product review plugin that is on our list. This plugin can use your affiliate links for the products you endorse, this plugin can make your website start making money with an ease. You won't face any issues with the theme compatibility, this is SEO friendly plugin with custom post feature.
Theme compatibility.
Custom post feature.
Customization rating
 Easy administration.
---
3 – WP Customer Reviews

Wp customer reviews lets users leave a review for the product. This plugin gives you freedom to moderate all the reviews left by users, it also gives you an edge to use it on multisite. This also has a multi anti-spam feature which helps restrict the spam bots to leave a review, you also get a feature of inserting a review in a post with the use of shortcode.
Multi-site and multi-user support.
Moderation of reviews.
Multi Anti-spam feature.
Insert review by short-code.
---
4 – Rich Reviews
Rich Reviews gives you an option of customization of reviews according to your needs, you also have an option of moderation so that the reviews which you approve can land on your website. This plugin has a simple design which is supported by most of the WordPress themes, the review ratings will also show on Google SERP.
Customizable reviews option.
Moderation of reviews.
SEO friendly.
Simple Design.
---
Conclusion
This is the list of best free product review plugin for WordPress. If you like to tip us with any other product review plugin then feel free to use comment section below.
If you like the list then please share it with other too with the sharing options.
Also Read: