The 5 Best free WordPress quiz plugins
Top list of best free quiz plugins for WordPress
When we hear about the word quiz many thing comes to our mind that what will be the questions, am i going to answer it right. This curiosity is what makes quiz interesting.
This interest factor is one which can be really helpful for blogging too, Quiz can be helpful in many ways for a blogger, it keeps your audience interested, by which they spend more time on your blog.
As a blogger you have the benefit of getting lot of answers for your question that only your viewers can answer.So to get quiz functionality you can use a quiz plugin, So here i start with a list of best free WordPress quiz plugin.
---
1 – WP survey and quiz tool

WP survey and quiz tool is one of the best tools to create quiz, along with quiz you can create surveys and polls. There is no limit on the number of quiz so you can create as many as you like, while you create a quiz you can have Unlimited number of sections for quizzes. By the feature of limit one answer per IP you can restrict one person to answer multiple times.
If you want that only registered uses should answer the quiz then you can enable this feature while the creation of quiz.
Highlights & Features
Unlimited quiz creation.
Unlimited number of selections.
IP restriction for one answer per user.
Can enable only registered user can answer.
---
2 – mTouch Quiz

mTouch quiz is a feature filled quiz plugin which gives you a freedom to customize the quiz the way you like. This plugin is optimized for mobiles and is touch screen friendly, You can have multiple answers to a questions, specify when a user gives a correct answer. You can have multiple answers for a question, for each question  you can have customized start and finish.
With randomization you can have random the order of questions, answers.
Highlights & Features
Touch screen friendly.
Customized start, finish.
Random question, answers.
Multiple answers.
---
3 – WP pro quiz
Wp pro quiz is a quiz plugin for WordPress which creates beautiful looking quiz, There are features for every thing you need while creating a quiz, you can have single or multiple answers, sorting of choices, random answer, random question, multimedia in questions, HTML in question as well as answers, You can set a time limit for a quiz.
There is multiple language support available on this plugin for creating quiz.
Highlights & Features
Single or multiple answers.
Random questions, answers.
HTMl, multimedia in questions.
Multiple language support.
---
4 – Watu
Watu is a simple quiz plugin for creation of a quiz in WordPress, you have the option to create any number or question with any number of answers as you like. Then you can assign points to every answer, Watu will calculate the grade based on the points created with the answers given.
This plugin also have a pro option available which gives additional features, which gives you edge while creating quiz.
Highlight & Features
Simple to use.
Unlimited questions, answers.
Grading system.
Mobile friendly.
---
5 – Slink Quiz

Slick Quiz is a plugin which can be really useful while creation of quiz, You can create quiz with unlimited questions and answers. If you like then you can enable score feature which will save the scores of users. Randomization of questions and answers is also there, you can also place multiple quizzes on single page.
You can even share result on social sites, Facebook and twitter can be used to share the results.
Highlights & Features
Unlimited questions, answers.
Randomization of Q/A.
Multiple quiz on single page.
Social sharing.
---
Bonus
Viral Quiz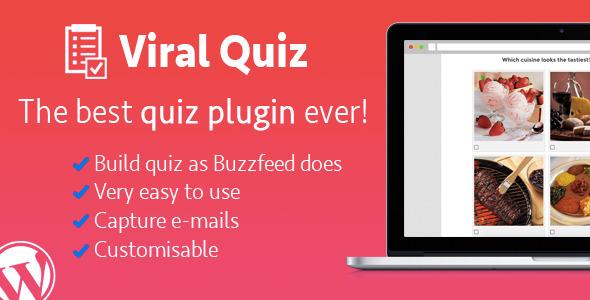 If a free plugin does not meet your requirements then Viral Quiz WordPress Plugin can be a great option for you. This one is a paid plugin and professionally maintained, so if you have any trouble then you have a 6 month support from the creator with option to extend it for 12 months, if you want to. The plugin interface is fairly easy and plugin is fully customizable.
The strong Point is that this plugin give you the ability to create quiz as you have seen in popular website buzzfeed.
---
Conclusion
Quiz can be very useful if used in a right way, so this is the list of our best free quiz plugins for WordPress. All plugins have different features so you have to choose the right one depending on your needs. We would like to hear that which plugins do you like for creating a quiz, or like to suggest a plugin to us, please leave us a comment.
Also Read: