why having a great blog design can make a difference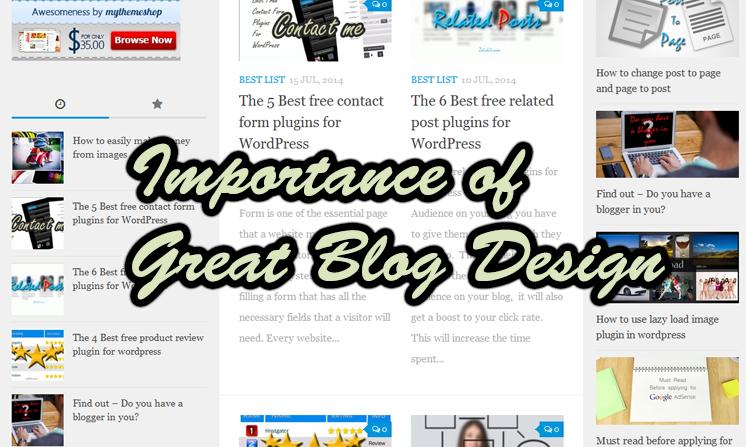 I've seen many new website that have amazing content but still lack that feel of professional touch, this is due to a non attractive blog design. Having a nice blog design can make a huge difference whether you visitors stays or leaves, If you are thinking that how can this be possible, lets take an example consider two men of same height, weight, built. Now just think that one is dresses lousy where as other one is in a suit, you are more likely to think that the person in suit is more perfect, professional and is more dependable.
Same goes with the design of a blog, when we make a website we want people to read our content and have a good experience while they are on our website. There are a lot of ways to make your website more appealing with few tweaks.
If you are using WordPress as the content management system for your website then you have a lot of option to make it look professional and beautiful. WordPress being the most popular content management system in the market, so there are a lot of themes available in the market.
Right theme importance for a great blog design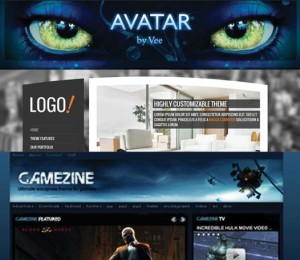 There are many blogs that I've seen who have either chosen a wrong theme for their blog or even if they have chosen a good theme still they haven't tweaked it to the way to match their blog. You must remember that all the themes are designed for different niche, and to make a design look good on a blog you must look for a theme that goes with it. Normally creator of each WordPress theme gives them tags so that the users can get an idea as to which kind if niche the theme is designed for, like you have themes for news blog, magazine, technology, photography, and many more.
Now a days we have an ample amount of themes available for almost all the niche, all you have to do is to find the right one according to your need. You must try to test few one before finalizing one, almost all the themes have a demo for users to check the functionality and different types of layout of the theme.
Mostly you have more features in paid theme, you also gets support with it. But if you are running low on budget then having a free theme is not a bad option too. There are a lot of nice free options out there which have nice layout.
Which choosing a theme you should keep in mind the basic needs you want and the theme customization, after all you want your website to look unique. Themes header and footer are important so check if you can add widgets to it, the recent themes or the one who are updated have multiple menu option to create many menus to place them where ever you like.
Images importance for a great blog design
When we hear about images we take it normally, what we don't know is having good images on a website make a huge difference in having a great blog design or not. Have you ever been to a website with lot of content and very less images. Well I've been to some of them, i must tell you that they have content worth reading every word but where they lack is having nice images to support the article.
Having an images that are related to content and are eyeful can add many folds in blog design. This is the reason that big websites spend a big part of money on purchasing images, good images supporting your article not only adds to a great blog design, it also delivers an overwhelming user experience.
If you are missing out on images on your website, its time you start placing them. Be aware that you can't take any image you find on the web, most of the images have copyrights. This doesn't mean that you can't get good images for free, there are a lot of websites out there who offers images for free, But remember to give proper attribution to the up-loader.
Design Menu carefully for a great blog design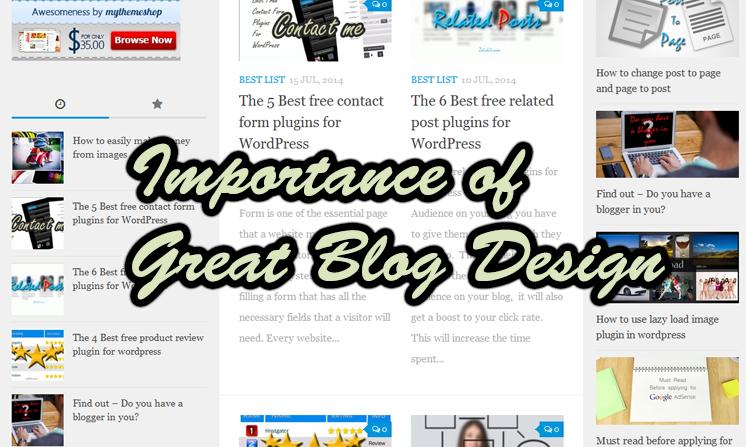 Having a proper header and footer menu is one of the most important part of a great blog design. There are many menu options available for a theme but the main is primary menu, This is the main menu bar which holds the most important options to navigate to the different sections of a website.
This primary menu can consist of categories, tags, sub categories and even custom links. These are the most important sections of your website, you can even place some related sections in sub menu which mostly appear as a drop down menu.
Design your primary menu carefully as this is the main part of your website that is used for navigation to different parts of your website, A poor menu can lead to a bad blog design and can get the user confused, further resulting in user leaving the blog.
Sidebar Setting for a great blog design
Every person have a different preference about the number of sidebars they want to have on their website. It's totally up to you to choose whether you want one or two sidebars, all you have to remember that the widgets you place on your sidebar hold a great impact over your blog design.
Proper placement of widgets can make you website beautiful as well as user-friendly, always try to use widgets that goes with your website layout and should be placed at right place.
You should try different placements of widgets to give your website a nice look, try to use same color configuration in the widgets that your website have.
Advertisement effect on a great blog design
I know that advertisement can be a main source of income for a blog, no one wants anything to come between them and their income. As much as the advertisement is important to you, they are that much of a hindrance to the viewers.

I'm not saying that you should stop advertising on your blog, in fact i encourage everyone to use their blog to make money for it. After all we all are spending so much valuable time on the creation of our blog.
What i want to say is have you ever been to a website that is full of advertisements, well I've been to few of them and trust me i was not able to find the real content easily. That gave me a very bad experience, to avoid this you should place advertisements at proper place and don't over do it.
This is one the reason why Google  won't let use Google adsense adds more than 3 time on a page. For some users Google have increased this limit to 4.
Conclusion
These are the thing that have an impact on a blog design, you can keep these thing in mind while creating a great blog design for your blog. If you know anything more that can help in having a great blog design then feel free to use comment section to tell us.
Mythemeshop have some of the best themes available. Check them out.
Also read: