How to add title field back in WordPress
In recent update WordPress removed link title field, Learn how to add title field back in WordPress
In the update 4.2 and above the WordPress core team decided to remove the link title field from their CMS. This was a good step for those who just like to keep everything clean but some people who liked this feature were disappointed. This feature gave them an edge to enter a different link title to the URLs that they insert in the post.
Now when you place the link then in the absence of this field you wont be able to find any text pop up when someone hover over the link. If we take the SEO perspective then this was important as this showed the search engines that what the link is about, sometimes people even like to add some keywords to the link title field for better results. This also helped in ranking for a specific keyword at SERPs. Now the link have to just rely on the Link text field that is the only thing while placing a link.
There are many people who like to get this feature back, and as WordPress have not retained this feature in later updates. You have to look for other options, If you are one of those who like to add title field back in the WordPress link insert field then you can use this tutorial to get the field back.
How to add title field back in WordPress Link insert?
To get this field back you have to install a plugin called restore link title field, this is the simple plugin which can get that link title field back to your link insert area.
This is a simple to use plugin you just have to install and activate it, it will add the link title field in the link insertion field automatically. After this you will again be able to see the field like the one below.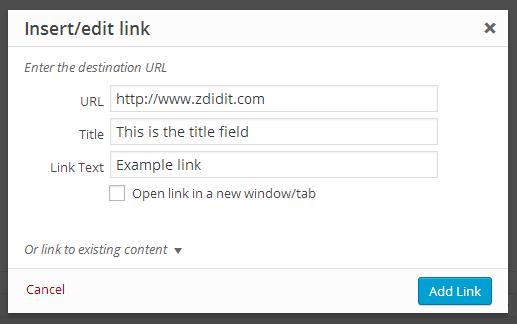 As you can see above that this plugin added the field in the link insert box and you can place the title related to the link. when you add title field to the link than, after publishing the post you will be able to see the title with the link.

This plugin is simple and hardly puts any load on the server, and in no way have any effect on the page load time. By any means if you like to add nofollow link option along with addition of link title field then you should use the plugin Title and nofollow for links This will add a nofollow option and add title field in WordPress link insert box.
For more nofollow option you can also use our list of best free nofollow plugins for WordPress.
Summing up
This is the easiest way to get back the link title field on your WordPress website, without putting any additional load to your server. We hope that this helps you get the link title field back to your WordPress website. If you liked this tutorial then you would also like few of the resources below.
Further read:
If you liked the post then please share it, and to ask a question or for starting a conversation use the comment section below.