How to setup email address that uses your domain name
Have you ever wanted domain name specific email address integration in gmail for free.
Setup email address with your own domain name
You know that setting up an email with your own domain name can be really helpful for your website brand. There are various features that comes with the domain name that most new one don't use.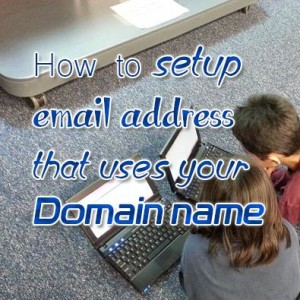 When you get a domain name and hosting then you get the capability of professional email (with Hostgator you can create email address for free).
If you are the one still using your personal email address like you@gmail.com for your website then you should consider using the professional email you@domainname.com. you can do this with your hosting for free. You just have to visit email address of your choice with your domain name but to access them you have to go to hosting again and again to check them.
But there is a way by which you can use your Gmail address for your domain name specific emails.
Before we start we should tell you that Google have this option which is called Gmail for work, we are not going to use this as they charge a fee for this (if you want all the professional touch for email then this is a great option) . If you like to have the domain specific email for on your personal Gmail address then you can use this tutorial.
To use this you must get to know the email forwarding, we are going to use the email forwarding to divert all the emails from your domain name specific email to your personal email address.
Some of the domain name registrars gives the email forwarding features, even thought it can be free or can extract an annual fee from you) if it's fee then use it directly from them. If email forwarding is paid then you can use that form your hosting provider almost all of them give this feature for free.
Lets setup email address that uses your domain name
Now lets begin with step by step procedure to create a domain name specific email like you@domain.com and integrate it with your Gmail account like you@gmail.com. With this you can receive and send emails from your Gmail account, but the recipient will get the email from you@domain.com email address.
What we are going to use hosting cPanel to set up email address.
First lets create an email and forward it
Login to the cPanel of your website hosting.
Then go to Email accounts in Email section.
Enter the details that you like to enter and hit create.

Now you will see the new created email on the same window.
Second integrate this email with other email
Create a new Gmail account or login to an existing one which you like to integrate with your domain name email.
After login you have to go to settings, this is under gear»settings.
Find the tab Accounts and Import.
Under this, there will be an option Add pop3 account you own you have to chick this.
Now you have to enter the email address you created on cPanel, and follow the following steps.
You can see your mail configuration in your hosting to check the settings that you have to put in your Gmail pop3 settings.
After this you will receive an email with a link and code you can use either of them to link your account.
That's it you have successfully setup email address that uses your domain name. Now you can send and receive email in Gmail with domain name specific email address.
You can do this process by email forwarders in your cPanel too, but in that case some emails will not be forwarded to your new Gmail address. By using pop3 account you linked all the emails directly to your Gmail account, so you won't miss any email. And you can choose the default email address that you like to send email from.
Further read:
If you liked the post then please share it, and to ask a question or for starting a conversation use the comment section below.