How to use DMCA to remove copied content
If you content is being copied then you are loosing a great deal of SEO, your website can even get penalized.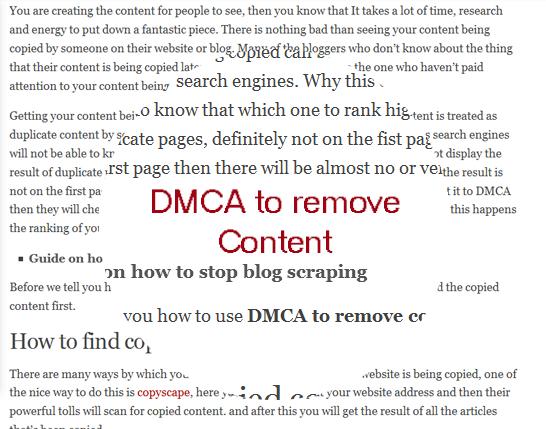 You are creating the content for people to see, then you know that It takes a lot of time, research and energy to put down a fantastic piece. There is nothing bad than seeing your content being copied by someone on their website or blog. Many of the bloggers who don't know about the thing that their content is being copied later regrets it big time. If you are the one who haven't paid attention to your content being copied then you should do it now.
Getting your content being copied can be destructive for your SEO. Copied content is treated as duplicate content by search engines. Why this duplicate content is bad for SEO, as search engines will not be able to know that which one to rank higher, so the search engines will not display the result of duplicate pages, definitely not on the fist page, you must be knowing that if the result is not on the first page then there will be almost no or very little traffic. When you report it to DMCA then they will check your claims and will block the content from other domain. When this happens the ranking of your content will be restored.
Before we tell you how to use DMCA to remove copied content, you should find the copied content first.
How to find copied content.
There are many ways by which you can find that the content of your website is being copied, one of the nice way to do this is copyscape, here you just have to put your website address and then their powerful tolls will scan for copied content. and after this you will get the result of all the articles that's been copied.
You must notice that which are the articles that are being copied the most. You can also use Google search to find the content you just have to copy the content of a post of your website and the place it in the search box of Google you must place it like ("Your content") and then hit search, Google will give you the results of the websites which are coping your content.
How to use DMCA to remove copied content
Now for the removal you have to see that which kind of website is copying your content, is the copied content is on blogger or WordPress hosted websites then its really easy to get them removed. For the self hosted websites you just have to inform the search engines and they will check that what you are saying is correct, when they are satisfied they remove the result from their search.
For content removal from Google you have to visit Google DMCA and go to legal and there you will find Tools which will help you to remove duplicate content.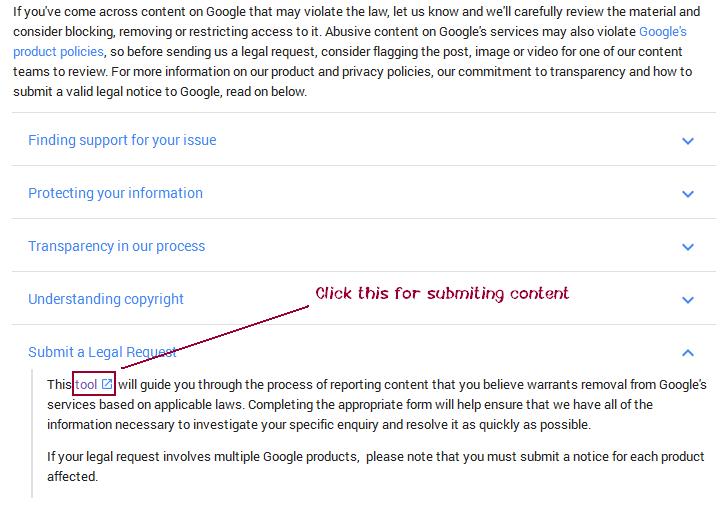 This will lead you to a new page where you have to place your information and the pages which have the original content and the website page where your content is copied. You should fill the form carefully, never try to make false submissions and before submitting for DMCA removal you should know about the fair use policy.
By keeping these things in mind you can go ahead with content removal.
Basically every search engine have their own DMCA to remove copied content. You can contact them to remove the website results with your copied content from their search results.
If the copied content is on the hosted websites like Blogger or WordPress then you can use their own DMCA service to remove the copied content from their website.
You can use these links to get the DMCA to remove copied content. Reporting these pages will help you get your SEO in back in place, If you ignore these things and do not submit copied content then you not only lose traffic but you an also get penalized by Google Panda.
You just have to regularly find the articles that are being copied and use DMCA to remove copied content, this will make you website keep growing. You can use other methods to keep your WordPress website SEO friendly. All these factors will hep you grow.
Further read:
If you liked the post then please share it, and to ask a question or for starting a conversation use the comment section below.