17 must have Firefox extensions for web developers
If you are a web developer then you must check these extensions. these must have firefox extensions for web developers can add tons of functionality.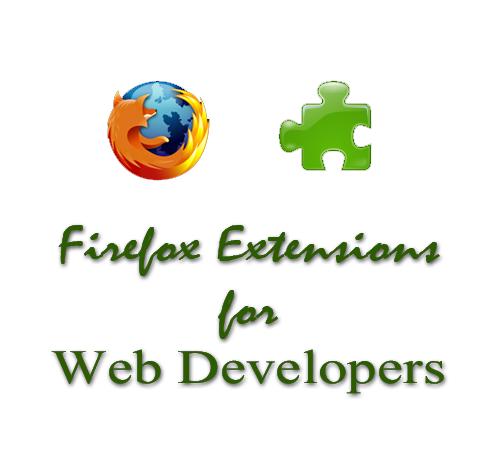 Firefox is one of those browsers which can do much more than just browsing the internet, being a robust browser Firefox can do many more things by default. This browser can be a gem for web developers, they can perform many changes to their website by using the features of Firefox.
One of the greatest feature of Firefox is that there are tons of extensions available. These extensions extent the features and functionalities of Firefox to a great extent. There are some of the great extensions which are necessary for every web developer. If you are a web developer then these extension will certainly be helpful to your for doing the tasks easily.
17 Helpful Firefox extensions for web developers
Essential yep this is you are the one who like to do things without going to much code then this is a must have, this will help you to change the code and see the changes in the real-time. This can be really handy when you are making changes to your website design. Many of the developers takes this extension as a must have for web development.
This extension lets you play with the CSS and HTML elements of the page and make changes to them, seeing results as you make changes will be really helpful, especially when you like to have made changes and see the best results.
With this extension you can switch the agent that comes in real handy when you have to access some of the websites which are specially available for certain agents, with this you can change the agent and browse the websites. You can choose the agent from the list or can create the one you need.
Colorzilla this extension is really helpful to the ones who have to choose the color from the specific part of the page, you can generate the color code which can be used on your CSS. With the eyedropper feature you can easily pick the color with few clicks.
I'ts not new that websites track people, they track your online activity, they track where you click and pages you visit. With this extension you can know that which websites are gathering data on any given page, it also allows you to block the websites that are gathering data about you.
Flagfox is primarily used for displaying the server location of different websites you visit, but for webs developers there are much more options available. When you visit a website and then right-click the flag icon and you will see tons of options which can do a virus scan to getting alexa ranking, who.is information and many more things.
This extension is one of the greatest tool that you can give to your browser as a web developer, after installing you will get a custom navigation bar with tons of development tolls that can increase the usability of your browser in folds for web developers. From cookies to css, re sizing, source code, valuable information, and tons of other tolls at you disposal.
Creation of page is easy but in the world of SEO you should always prefer to have HTML validation. every browser displays the website in a different way, this validator will check the website code follows the guidelines of W3C. If your website gets validated than web developers can go ahead with other tasks, and if not then code should be refined to make the website meet the requirements.
Many of the websites have different versions for different geographical locations like for Canada, Australia, UK. For web developers working on websites from different locations, then they have to use Geo location which helps to alter the location sent to the servers. This enables you to work on website from different location while being on one.
Another one which can help web developers is colorful tabs, this simple extension adds color to the tabs that you are working on, as you get use to it, this extension proves to be a gem for web developers. This is simple to use plugin ans get the colorful looks to tabs so that it's easy to recognize them.
With powerful javascript debugging feature, web developers who like to do a lot of coding in javascripts, then this can be a gen for them. If you are one of those who like to do coding from web browser then this is a must.
Every now and then you have to take some screenshots while doing web development, this extension just makes the task easier. This plugin can take the screenshots without any loss in the quality, this also saves a lot of time
Most of the time web developers have to repeat the task while working on a website, this extension will automate this task. With this plugin you don't have to write the same stuff again and again. This plugin uses record and repeat feature, which makes it easy to do same tasks.t
You can view, edit and create new cookies, with this you can see the extra information about the cookies. You can edit multiple cookies at once, there are tons of things that you can do with cookie manager+. This is one of the must have options for web developers.
Many of the web developers likes to know the technology working behind a website, this is really helpful for web developers who like to find out that what kind of technology a website have and depending on which they can do various things on their own website they are working on.
Measure it is one of the extension which helps web developers to measure the pixels accurately, and this helps then to place the relevant size elements on the website, this is good for the loading times as well as SEO. The measurement is accurate and a must as different screen size makes it hard to get the size in pixels accurately.
Even though there are many ftp clients software out there, but you can get the feature with just an extension known as fire ftp. this gives firefox the feature of ftp client and as a web developers you have to transfer files from your system to server regularly. This makes the process easy and you don't have to add another software.
Page speed is one of the important factor in search engine ranking, So web developers keep a keen eye over the page loading time, which helps them to get the page speed at an instant on the browser.
Conclusion
These are the Firefox extensions for web developers, which can be helpful to make the things easier. If you are a web developer or like to edit your website on regular basis then you can use these extensions to complete some tasks easily without leaving the browser.
Further Read:
If you liked the post then please share it, and to ask a question or for starting a conversation use the comment section below.