Must have Pages for a website
When ever you make a website or Blog, have you ever wondered which pages you should make. When ever I visit a website I can't help but notice that there are few pages that every popular website have. Why do they have these must have pages, how do they help them.
These must have pages for a website helps them to inform users their rights and the way your website works. What a user can and can't do with the content available on your website. As we all know that advertising on your website or blog is one of the primary source of income, when we hear about adds first thing comes to our mind is Google Adsense.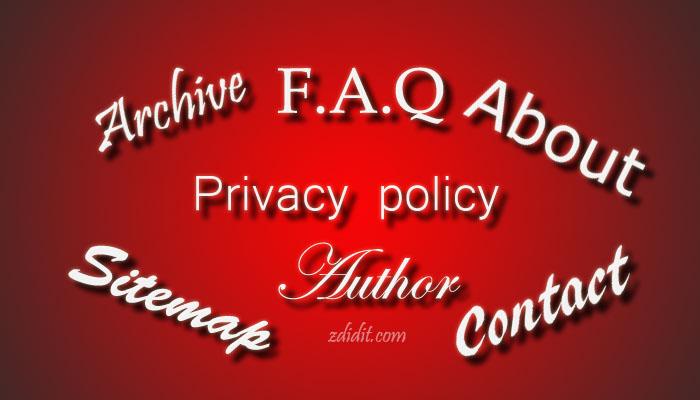 Google Adsense is the biggest online advertising company out there and when you apply for Google Adsense they visit your website or blog to look for certain pages which depicts the policy of your website. If the policy of your website satisfies their terms then they authorize your website to host their adds, resulting in making money.
Adds are not the only thing why you should have these must have pages for a website, Having these pages on your website  or blog will increase the user experience by giving it a professional touch. These pages also helps in taking the brand image of your website to new heights.
Must have pages for your website
Before starting I must tell you that first five are the most important pages and you should make these pages on priority basis.
1 About page
About us page is one of the must have pages for a website as this is an introduction page of your website. In about page you can include the basic module of your website that what your website is focused on. You can also include a Description about all the aspects of your website, your goal you want to achieve, you can also include your achievements. You can also add a description about yourself in this about page but I like a separate page for this specific purpose, If you have a separate author page then you can add a link in your about page that heads to the author page.
2 Contact page
Contact page is another one of the must have pages for a website, this will help people to contact you for their different queries. Contact page is most important when you are open to placing adds on your website. Your visitors also use your contact form to ask questions or tell your about any bug they found on your site, some even use this page to give suggestions. Keep in mind to use a contact form plugin like me, if you place your email address directly on your website, that will result in lot of spam emails flooding to your inbox. I personal like to use contact form 7 this is a simple to use and very effective plugin.
3 Privacy Policy page
privacy policy page is a legal document where you state all the privacy terms that a user should know. In privacy policy page you disclose about the information gathered by your website and sharing them with third parties like Google for instance place a cookie on users device which collects the information about which websites they visited search which pages products they liked based on this Google serves adds to the user. If you want to serve Google adds that you must have a disclaimer about Google cookie on the privacy policy of your website.
4 Sitemap page
A site map page another one of the must have pages for your website, well as the name suggest a site map is a the whole structure of your website on a single page. Having a site map page on your website serves two purpose, first is that it shows all the post and pages in a symmetric way for the users and secondly the is an important aspect in terms of SEO. Having a sitemap help search engines to easily crawl all the pages on your website and index them more quickly. In WordPress platform you can generate a sitemap using this plugin.
5 Author page
If you have a multi-author website then this page is a must have pages for a website. This page helps your audience know about all the authors putting their effort on your website. An author page will tell you audience that your website is putting lot of useful content on the website on regular basis and having this page also helps in. Most of the well-known websites have these pages which have a list of all the authors they have.
6 Archive page
Archive page is like a history of your website, this page notes all the dates and time you ever published a post in a systematic manner of years, months, and days and then posts are sorted by the time they went online. This Archive page helps users get to know which work you did on which time. Some people place their archive on the sidebar, this is that important but having a page for this purpose makes more sense. So even if you have placed archive on your sidebar then still make an archive page to give it a proper place.
7 F.A.Q page
F.A.Q page is a must have page for a website of any niche, with every website users have some query and they ask question about it using your contact page. When you get many people asking same questions then rather than giving them answers individually which takes a lot of time too, you make a FAQ (frequently asked questions) page which have the answers to the questions which are most commonly asked by the visitors of your website. This save you the trouble of answering them individually and on the other hand your visitor will get the answer of their query instantly.
8 Advertising page
Adverting page is must have pages if you host advertisements on your website. This page helps the companies who want to place direct adds on your website, this page will have the price list of different places of your website where you can place their adds. You can have a different price for different places and different size of the adds. Adverting companies always like to visit your advertising page to know about price for placing adds. Always remember to ask for the amount depending upon the traffic of your website and the place and size where you want to display these direct adds.
9 Service page
If you provide some kind of service then this page is a must have pages for a website. This service page will help your audience to know about the services you provide and on what cost. This page will help you get more people using your services as they get to know about all of it at a glance on a single page. Like on my niche I can give a personalized service for setting up your WordPress blog, SEO of your website, transferring your website from one host to another. For these kind of services I can use a service page which have the price for a specific service.
10 Term of usage
If you have a business website which sells products then this is a must have pages for a website. Term of usage page specifies all the terms you have related to the products you provide. It shows the license of using the product found on your website whether you can use if for personal use or can be used even commercially. its all covered in term of usage page.
Different niche has different must have pages like shopping website have return policy and cancellation policy page which are must have for them, but they are of no use for other niches.Pages listed above are must have pages for all websites or blogs.
If you think that more pages should be added to the list, or simply tell us which pages you have on your website feel free to drop us comments.
Further read: