Why paid links a Big No for SEO
Most of the people get lured into the world of Paid links just from an email. You should know the negative effect of paid links on SEO of your Website.
There are reasons why you should avoid paid backlinks at all cost.
Every blogger now and then get some emails to lure them in the trap of creating paid backlinks for their website. Even you must have got some.
These guys look pretty professional in their emails as if they are selling you the deal of a lifetime or an easy way to success.
Many of the people who don't know how to create healthy backlinks get trapped by these guys ending in loosing money and getting penalized by Google.
There are many bloggers who had tremendous potential in them got penalized by these paid backlink guys, eventually some left blogging and some learned their lesson the hard way.
It's not that paid back links guys don't make backlinks, they do make them and this is where they ruin everything that you worked so hard to build.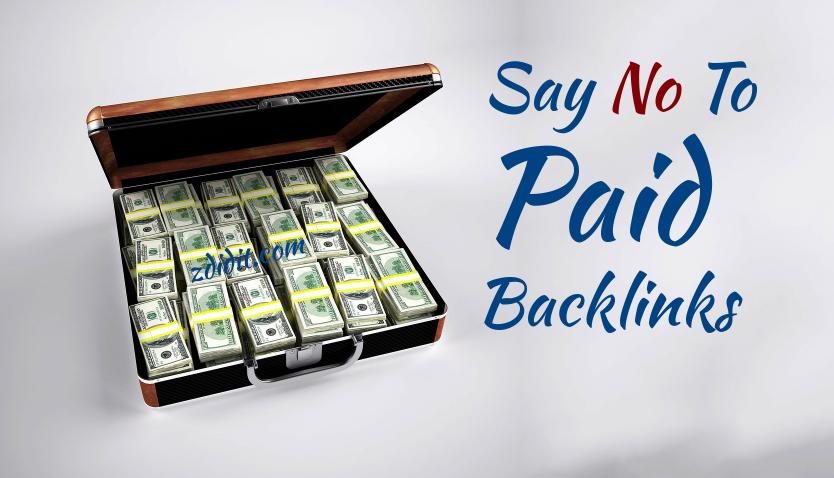 In earlier days paid links worked really well for some of the websites, many of the websites reached new heights overnight. They got at the front page of Google, millions of page views, that was a win win deal for both of them website progressed overnight and paid links guys got the money.
But the thing which was not right was the end consumer who was not getting the best result at the top of the search so Google stepped in, they started to monitor website and noticed anything suspicious.
They introduced few algorithms like panda, penguin, hummingbird which was designed to catch these kind of activities and penalize the website. This resulted in to the death of paid backlink building.
There are some reasons why paid links don't work now, they even have a negative effect on SEO.
Worthless website network
The people who are in business of paid links have a set number of websites which they use to make back links for your blog. This is their website network which they use for creation of links for all websites without thinking that their website is good or not.
This is due to the fact they have not created a content like you, they have put in the hard work like you, they make links for any one who pays them. These websites will be linking to the websites who spam and think that link to your website will be on that website and you even paid for it to be there.
When Google finds out about these websites who are a part of paid link building then they will penalize their sites and this will have a major setback for SEO of your website, Your website can even get penalized as you are connected with websites who spam and are into paid linking.
Google is not a Fool
This is a mistake that most of the people do that they think that they can fool Google. Even you know that Google is smart, don't try to trick the system, sooner or later they are going to find out and then all your hard work and money will go down the drain.
People selling the paid links try to show you that they have a super formula that can make your website excel in SEO world overnight. Even if you get some initial results but after some time this practice is a certain death for your website.
Only Brand will rule
Just think that Google knows that how many people like you website, this is noticed by the amount of visitors you have for your website.
If a brand website have few links but thousand of people visit them, is better than a website with lot of backlinks but a few people visiting them. This is also judged by bounce rate and time spent of website.
Ultimately a website with more brand value and nice content will make people stay on website longer and visit multiple pages. This will help develop domain authority which is a measure for the value of your website.
So paying for links will not have impact on increasing your brand value.
PR is Long Gone
Many of these People selling links try to promote them as get links from high PR website. Google page rank toolbar is officially dead. Now you have to look for Domain Authority, getting links for website with high domain authority will increase domain authority of your website.
Now a day Google have reduced the impact of back links that they use to have earlier, so you can see that websites with less or no back links performing better than the ones with lot of them.
Content is the thing which makes your website worth visiting.
To make it simple for you if paid links would have worked so well then these guys would not have to run after you, if some one have a formula that can really fool Google or make your website excel to a new height then these guys won't make it public. On the other hand they will use that formula to make money for themselves.
So before getting attracted to these paid back links you should focus on the creating a brand value and start giving licks to the stuff you think is useful for your viewers. This way when people will take notice of your content then they will try to link your content, this way you will get healthy and natural backlinks.
Also Read: